How to Attract Hummingbirds
Habitat
Hummingbirds are found in most habitats across North America, including backyards. Offering nectar feeders and nectar-producing plants will help you maximize the number of hummingbirds that visit your yard.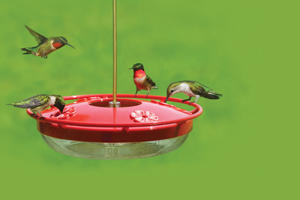 Recommended Feeders
We recommend using the Wild Birds Unlimited Hummingbird Feeder to attract the most hummingbirds to your yard. Designed to appeal to hummingbirds, this feeder allows them to hover or perch while feeding. It does not leak. Bees can't access the nectar solution, and the built-in ant moat deters ants. The feeder is easy to clean, and the nectar solution recipe is printed under the lid. Lifetime guarantee.
The Wild Birds Unlimited Decorative Hummingbird Feeder adds an aesthetic flair to your yard, is available in the three most popular flower colors for hummingbirds and has the same great features as our standard hummingbird feeder. Lifetime guarantee.
Based on our standard feeder, the Wild Birds Unlimited Decorative Window Hummingbird Feeder brings the birds in for closer views. Watch their tongues lap up the food, darting in and out of the nectar solution up to 12 times per second. It is the only window hummingbird feeder that contains an ant moat. Lifetime guarantee.
We offer assorted decorative glass or ceramic hummingbird feeders. They are beautiful for you and functional for the birds.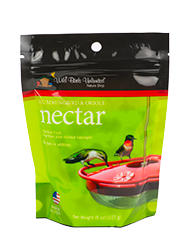 Recommended Items
Offer our Wild Birds Unlimited Nectar, or mix up your own water and sugar (4:1 ratio). Clean nectar feeders every two to four days; then fill with fresh nectar solution.
Use the Wild Birds Unlimited Nectar Port Brush to keep your feeder clean and presentable for hummingbirds.
Keep ants out of non-WBU nectar feeders with the Trap-It Ant Moat.